You ok? How's the meeting goes? Everything ok ke? Ko tak cerita pun. Its kinda pelik la pulak suddenly ko tak bagitau..
Btw.. aku tgh ada mood nak menaip ni so here it goes. Went to my dad's school reunion dinner last night, and as u already know, ally was there 2. The last time I saw him was 2 years back and that time he came only with his parents. This time, dia tak jadi mc, adik dia yg jadi. Adik dia much taller than him, kurus, so now I know betapa dia ikut bapak dia and the rest ikut mak dia. Dia pendek hahahaha.
He came in late with his mum, and sat at the VVIP table (my dad's there too). Seat aku betul2 opposite dia so I had clear view jugak la ahahhaha. He didn't wear his baju melayu anymore, instead dia pakai baju cam punjabi but shorter cam shirt with jeans. Nahar cakap dia dah nampak kurus sket, and memang nampak terang2 la jerawat2 dia penuh muka hahaha. So its make-up magic ah on tv tu.
Aku and Nahar memang dah nekad giler nak amik gambar ngan dia. Aku la especially. Tetiba je gila hahaha. Sebab semua cam menyesal dulu ego la, malu la.. dahnya kakak aku je yang ada gambar dia. :P so this time.. memang nekad gila laaa...
Awal malam tu tudung aku jadik lagi (aku pakai baju raya 1st)...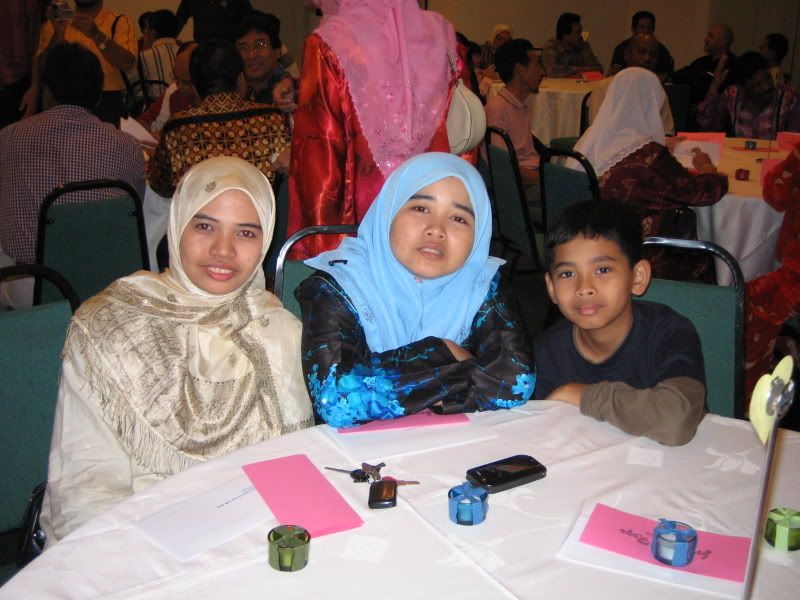 then later on tak tau la apa jadik, tetiba makin hampeh. Memang hampeh teruk la tudung aku. Aku dah tak duli la, lantak la apa nak jadi, memang x lawa pun dlm gambar (and suddenly I look sooooooooooooooo big!), asal ada gambar ngan ally.. hahahahha.
Aku takkan la nak gi kacau dia tengah makan or masa majlis berlangsung, tk best la pulak. So i waited. Since its not just reunion for my dad's batch, istead for the general school reunion, so lagi ramai la yg datang. While waiting tu, ada la a few yang buat performances.
And ada la this one band...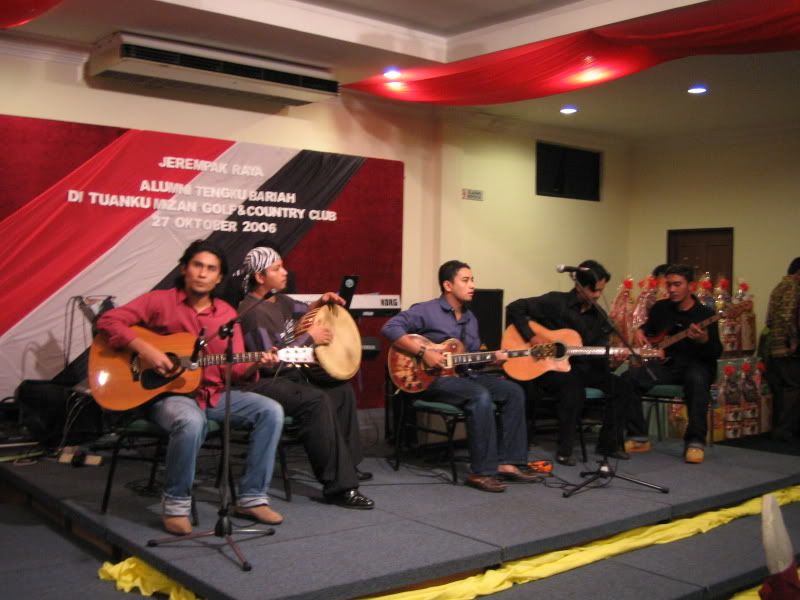 ex students la... and I WAS HOOKED!!!!!!!!!!!!!!!!!!!!!!!!!!!!! Diorang cam jamming few songs... and the lead guitar dia BEST+ COOL GILERRRRRRRRRRR!!!! Aku cam terpukau jap, siap sengeh2 amik gambar diorang + him alone hahahahahhha.
Tho gambar shakey giler, i still love it, memang full of emotions dia main gitar.. and memang aku gila berani laaa... Aku ingat nak record sket dia goreng gitar (LOVEEE his style!), then tengah sibuk2 jadi paparazzi tetiba camera aku menyala2 tanda bateri weak. Cuakkkkkk gilerrr...... !!!!!!!!!!
Since aku nak simpan untuk ambik gambar ngan ally, aku terpaksa reservekan kamera tuuuu. Tension tul lupa charge. Ceh.
Abis event, cepat2 aku panggil ayah aku. Cakap kat dia kitorang nak ambik gambar ngan ally (since Nahar tetiba taknak ckp, malu la konon!) then he told Ally. HA AHA HA AHA HA AHA. I was SOOOOOOO excited hahahahahah!!! We were the first to approach him to take photo, so dia cam fresh lagi la. Ingatkan dia sorang je, tetiba mak aku datang and ajak his mum skali. SUKEEEEEEEEE hahahahaha. And then adik dia (MC) masuk gambar skali. Then ntah makcik sesat mana sorang masuk gak menyampah aku hahaha. Ayah aku n adik bongsu dia (form 4) ambik gambar. Ayah aku punyala lama nak focus sampai kitorang terjerit2 kat depan, aku dengan cuakkkknya takut bateri habis, adik aku dengan tak sabar + excitednyaaa, ally dengan confusednya siap tanya apsal lama sangat hahahha. End up rupanya ayah aku tak nampak pun kat mana nak focus (cheh!) so aku suruh orang lain ambik. Instead of one, that chinese guy ambik sampai 3-4 keping huhuhuhu bestnyeeee.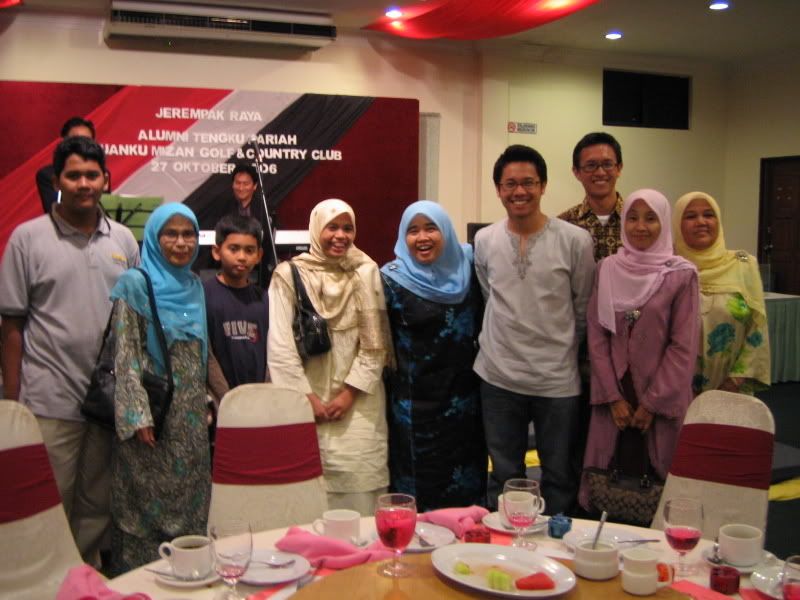 first pic semua gelak tak ready..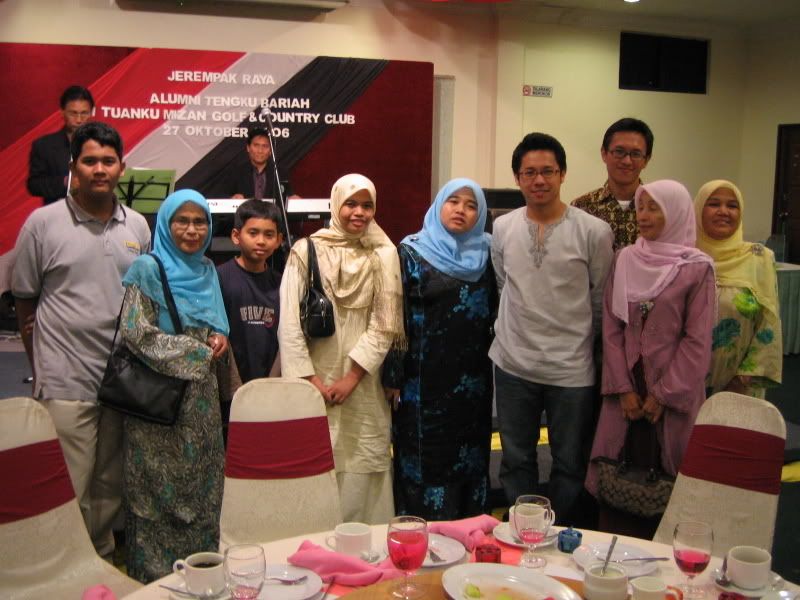 then 2nd pic baru jadik lawa :)
Then dengan muka tak malunya adik aku suruh aku amik gambar dia ngan ally, so I took the opportunity to take pic with him too hahahahaha. And he didn't mind hahahahaa. Lepas kitorang dah abih bergambar, crowd dah penuh hurung dia hahha. So we got lucky. Dapat amik gambar with the whole family sebab pastu dia ambik gambar ramai2 je then stop hahahahah. Rasa eksklusif jap. SUKA SUKA SUKA.
Tak kisahlah muka aku minyak2 pun. Tak kisahlah suddenly I looked so BIG in the pix pun. Tak kisahlah aku punya tudung horrendous pun hahha. Aku tak kisah dahhhhhhhhhh!! :P Gilanya akuuuuuuuuu hahahaha.
So here it is.. (u can really see his pimples hahah)
p/s nahar sure marah kalo dia tengok gambar dia n ally dlm pc nanti, tak jadi! Confirm dia x puas hati. Habis la hahahahah...
omg this is the longest email I've written all year!