This would be one of the longest entry. :)
I was busy looking for old english story books for the kids at school. I remembered having some at home and nekad to find them last night. I came across an old box under my bed that was full of books. I was excited, thinking I've found what I was looking for.
Little that I knew I was in for a surprise. I found this. :)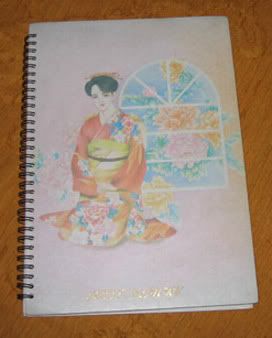 This was my autograph back in Form 5. I havent seen this book since 1998, and had thought it was long gone. Of course, I was stunned to see the autograph was neatly kept together with few other books that I'd last seen ages ago (including my first English novel, another autograph of 1994, my penpal letters from Hongkong, my 2000 organiser, an few school notebooks.)
I opened the first page of the autograph and I found this. My first namecard hahahaha!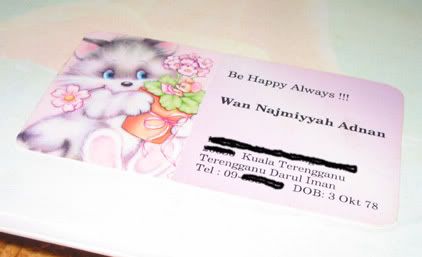 And nothing could stop me from laughing when I read back those treasured pasts! Let me read that to you... :)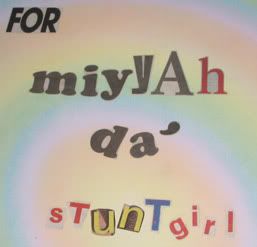 This was written by one of my seniors in Matric IIU. Hahahhaha. I was famously known as for my accident-prone skills so.... go figure. :P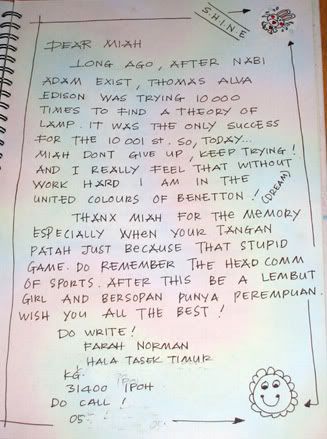 Kak Farah (another senior) wrote this. HEHE. The details of wat really happened that time muaahahahahhaha.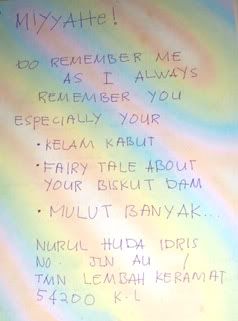 ... and Kak Huda. Ya Allah, betapa immature nya aku dulu!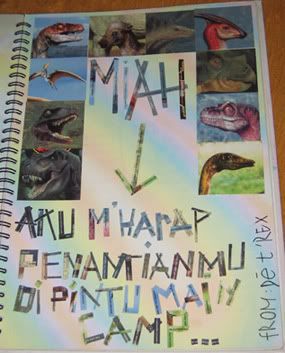 And this is Yan's. My roommate masa Matric. One of the coolest girl I've ever found. And she collected the dino stickers purposedly to stick them in my autograph ahahahah.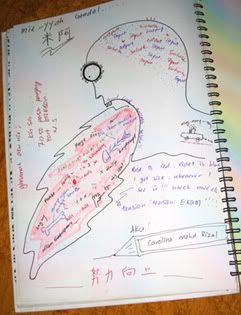 Hahahahaha. And this was one of the weirdest autograph signing ever! Hahahahahahahhaha. Done by Ms. Carolina Md Rizal, my coursemate cum housemate in Matric.
It was amazing how I survived my Matric years. :)
And about 80% of the autograph was full with the memories of SPM 1995. The autograph was full with entries dedicated mostly to "Mrs. Shiba" or "Mia Eldabo" or "Stan(um)" - dont let me start on that haahhaahah!! It truly proved the immaturity of the autograph owner hahahahahaha.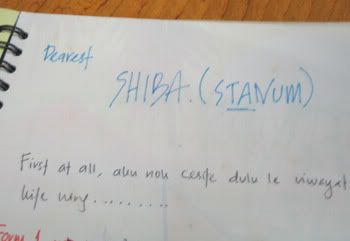 Done by one of the closest friend at school.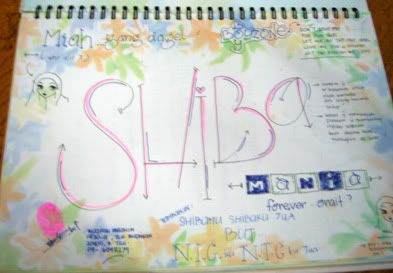 And I was excited when she wrote this. Yeah, I was weird. :)
And there's this one entry from my best friend at school, Che Rohana. A nasyid song entitled "Pertemuan Bukan Milik Kita." Twas like a theme song of our friendship that time. And I can still sing it perfectly! :)
Selalu dalam novels or dramas or movies je ada heroin/ hero terjumpa barang-barang kenangan lama. Memang tak sangkalah aku boleh jadi "heroin" tu semalam. Hahahahhaha. Yelah tu, ini drama aku.
Dan yang paling-paling-paling buat aku excited semalam bila aku jumpa ini terselit di celah-celah organiser lama.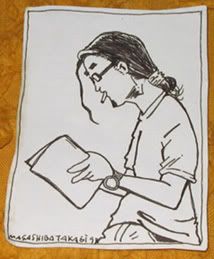 Lukisan pertama yang memunculkan kegilaan Sahak ahahhahahahahhahahah!
Itu baru first kotak bawah katil tu. Ada lagi dua kotak. Tak tahulah apa lagi yang aku akan jumpa lepas ni. Harap-harap yang baik-baik lagi.